GoldPeach Properties is proud to present its second flagship project, City Soho...
The Possibilities are Endless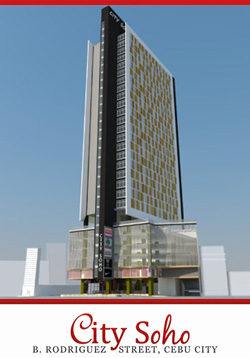 Imagine having a home or office within walking distance from hospitals, schools, banks, malls, and major thoroughfares.
Envision a modern structure with all the amenities of a professional business center. Picture an elegant urban tower with all the advantages of a prime business location. Visualize the perfect environment where you can work, live, and play.
...All these, plus more, embody the City Soho dream.
Urban Business Hub
City Soho is ideal for dental clinics, medical clinics, auditing firms, professional offices, and more...
Live and Work in the Same Space
Select your unit according to your specific personal or business needs.
At City Soho, you can have an exclusive office unit, a residential unit, or mixed use home-office units.
The choice is yours!
The SOHO Concept: An Emerging Trend
City Soho offers the convenience and flexibility of working and living in the same space. With amenities designed for both office and residential use, City Soho is ideal for professionals, small business owners, and start-up entrepreneurs, among others.
City Soho comes at a time when Cebu's urban center has become overly saturated and prime real estate is a rare commodity. As property developers turn their sights to the outskirts of the metropolis, away from the hustle and bustle of city life, City Soho fills a need for a modern home-office building at a prime location.